On Saturday, December 9, 2017, a Twitter exchange between slapstick comedian Seth Rogen and the inventor of email Dr. Shiva Ayyadurai, a world-renowned scientist-technologist and graduate of M.I.T., escalated to death threats against Dr. Ayyadurai, who is the leading U.S. Senate candidate running as an Independent challenging Senator Elizabeth Warren.
In a series of racist texts, starting at 1.43PM EST, the perpetrator with Twitter handle @KirtBryce direct messaged Dr. Ayyadurai on his Twitter account @va_shiva threatening to kill him: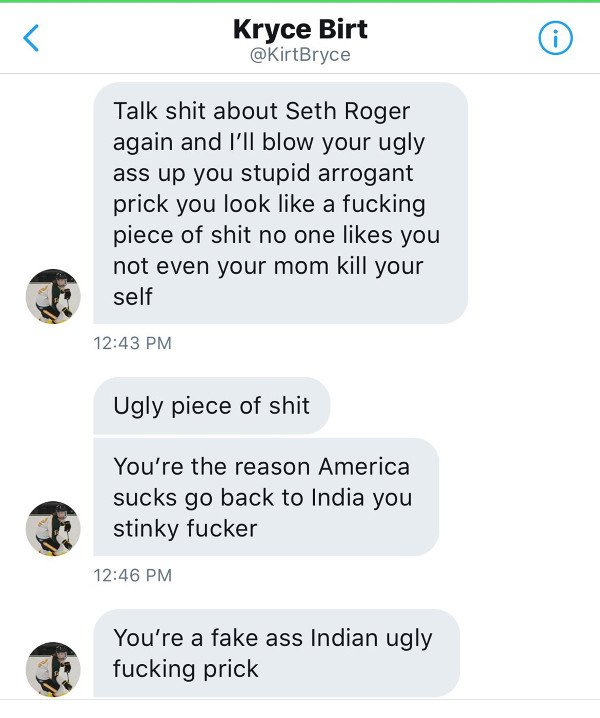 Dr. Ayyadurai, shortly after receiving these threats, tweeted out to his followers: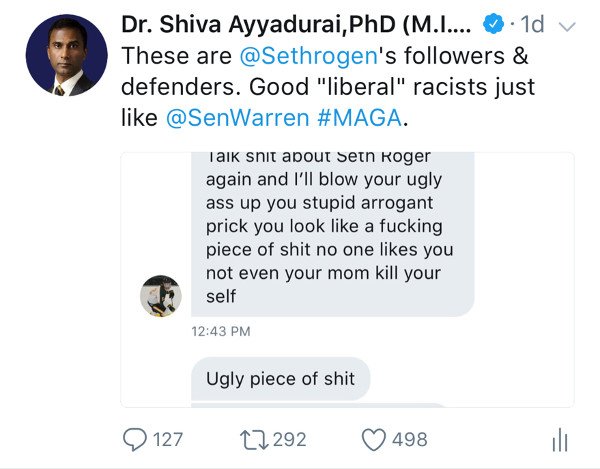 Dr. Ayyadurai also tweeted to Rogen to inform him of the threat: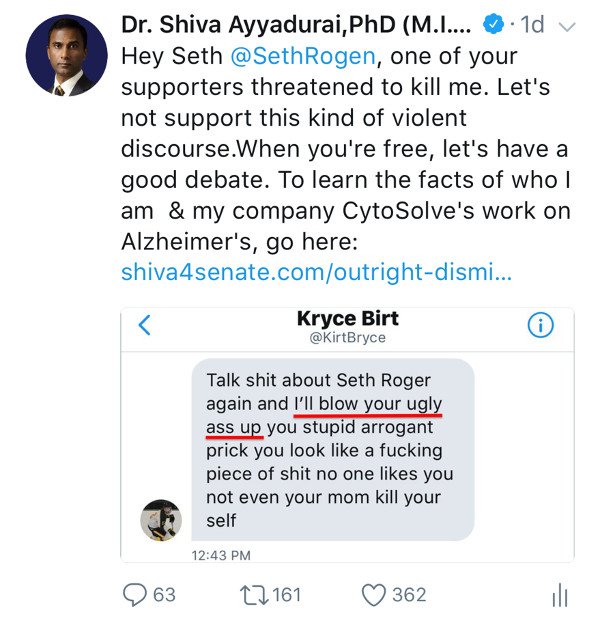 Dr. Ayyadurai had initially tweeted a request to Rogen for an open and public debate about Rogen's opinion on Steve Bannon. Rogen retorted by declining and posting a mugshot of Dr. Ayyadurai.
"I find Mr. Rogen's silence on the threat against my life appalling. In response to my original request for an open and transparent debate, Mr. Rogen incited a race war by implying that I am a minority who beats women. He knows that these were false claims that were outright dismissed by the District Attorney of Massachusetts. I find Mr. Rogen racist. I find Mr. Rogen's supporter racist. Mr. Rogen's silence on this matter makes him complicit to the death threat against me," said Dr. Ayyadurai.
The Belmont Police of Massachusetts have initiated an immediate investigation and have increased security around Dr. Ayyadurai's residence.
###
About Dr. Shiva Ayyadurai. Dr. Shiva Ayyadurai, the inventor of email and polymath, holds four degrees from M.I.T. including his PhD in biological engineering. His award-winning inventions beyond email include EchoMail, Systems Health and CytoSolve, to name a few. CytoSolve is a revolutionary technology platform for discovering new medicines for diseases such as pancreatic cancer and Alzheimer's, faster and cheaper, by eliminating the need for animal testing through computational modeling of complex molecular mechanisms. Dr. Ayyadurai was the featured scientist in the award-winning documentary Poisoning Paradise, which will be released shortly, that was produced by Pierce Brosnan and directed by Keely Brosnan.
Press can reach Dr. Ayyadurai at the email: shiva4senate@shiva4senate.com, or at 617-631-6874.