"I Know I Can Defeat Elizabeth Warren in 2018 Race." That was the headline of the incredibly popular FOX Business News interview that I just did with Stuart Varney. Over 1000 other small and large media outlets picked up the interview.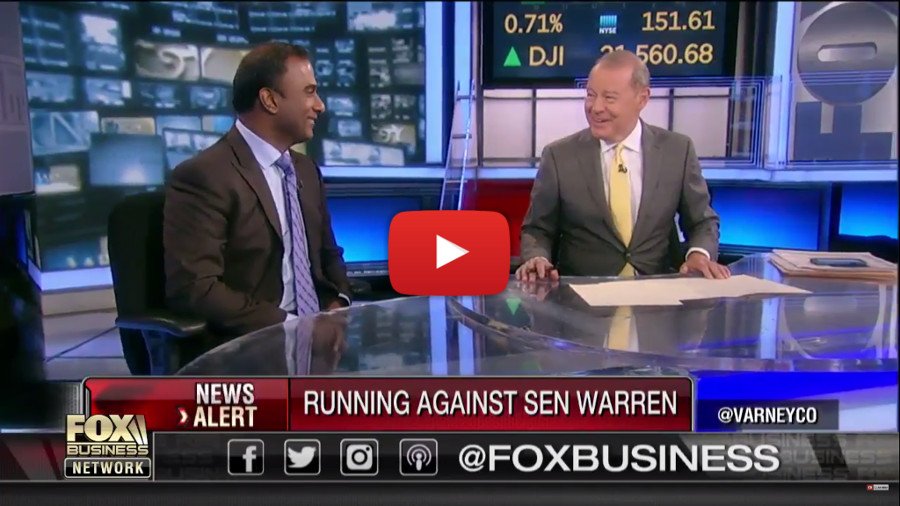 There, however, appears to be an organized effort, from within our own party, to dish up self-serving candidates who have ZERO chance of defeating the Fake Indian. In collusion with Boston Globe, The Herald, WRKO and The Howie Carr Show, my campaign receives little to no visibility LOCALLY. But NATIONALLY, we get fair and well-deserved coverage.
This deliberate effort of blocking visibility of our campaign to Massachusetts citizens is outrageous. The intent is either to keep Warren in power or to serve the personal interests of career politicians, political consultants and media hacks who want to exploit the righteous anger we all have for Elizabeth Warren, to just make a buck.
I know I am the only one who can defeat the lying, lawyer-lobbyist Elizabeth Warren. The question is: Do YOU want to defeat her?
My parents and I came here as "low-caste," "Untouchables" and "Deplorables," leaving the oppressive caste system of India. I went through the public school system, invented the world's first email system at the age of 14, earned 4 degrees at MIT, including my PhD, started 7 companies providing many jobs in Massachusetts. By supporting our campaign, you are fighting for the American Dream.
I stand for Winning the Future for You by SOLVING PROBLEMS. I will use my God-given gifts to deliver Massachusetts REAL JOBS, REAL EDUCATION and REAL HEALTH while ensuring we have Clean Air, Clean Food and Clean Government.
If you truly love this country, and are tired of all the BS, and want someone who is brilliant and accomplished, can solve problems, has a history of creating jobs, and loves America, you MUST support my campaign. Because, only a REAL INDIAN CAN DEFEAT THE FAKE INDIAN.