Dr. Shiva Ayyadurai's U.S. Senate campaign ended 2017 on a strong note with a total of $2.1 million in campaign contributions. The final quarter of 2017 saw the campaign receiving $859,338 and it had over $106,000 cash on hand.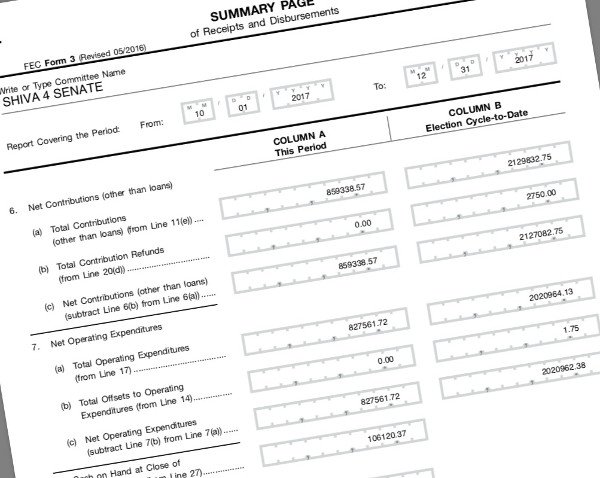 These contributions came from 1200 different donors, and combined with the growing number of volunteers across Massachusetts, Dr. Ayyadurai's campaign has become a formidable force.
On Sunday, a number of people attending Elizabeth Warren's Townhall meeting in Malden defected from her camp and signed up to become volunteers for Dr. Ayyadurai's team when they found out that Warren had repeatedly cast votes in the Senate for policies favoring Monsanto and the GMO industry. Commenting on this development, Dr. Shiva Ayyadurai said, "People have seen through the game of Elizabeth Warren and have figured out that she belongs to the Not-So-Obvious Establishment. After all, she switched from the Republican Party and became a Democrat only at the age of forty six, the same year she joined Harvard. This should raise suspicions because people tend to become more conservative as they become older." The issue of GMOs on Real Health and the lack of skilled labor to take on 21st century jobs have become central issues in the Senate race in Massachusetts after Dr. Shiva Ayyadurai called attention to them. Among the candidates, Dr. Ayyadurai is the most knowledgeable person on these topics.
For every 17 skilled job openings in Massachusetts, only one person is skilled to take on these jobs. The incompetency of career politicians to enable every day Americans to receive the skills they need to take on these jobs, is the real reason that segregation and racism exist. The career politicians of Massachusetts, the "Republicrats" of both parties, have delivered segregation and racism to the people of Boston. The average net worth of an African-American in Boston is a mere $8. Dr. Ayyadurai said, "We need to unleash vocational technical schools and training to access online education so as to allow our citizens to acquire those real skills to be successful in the 21st century. There is no reason, that skilled citizens should not be making a six figure salary. That's what ends racism. That's what ends segregation."
Dr. Ayyadurai's campaign will also debut the Knowledge Engineering Collaboration Server for Open Digital Governance within the next thirty days. "This will be an Open Governance Model and will lead to a government by the people, for the people, and of the people. What we have right now is a system that makes the people subservient to the Establishment instead of the other way around," said Dr. Ayyadurai. The Open Governance Server will allow people to participate in Governance by interacting directly with Dr. Ayyadurai so that they can influence policy making and legislation.
As we enter 2018, support Shiva 4 Senate by contributing whatever you can or volunteering your time to get Dr. Shiva Ayyadurai on the ballot.
Declare Your Independence,
Shiva