Hope you are well. This Saturday, April 13, 2019 between 10am to 2pm, I'll be holding another Systems Thinking Workshop featuring the Educational System. Feel free to come into Cambridge or join us online. I do this 4-hour workshop as a public service to make you a Super Genius, since I'm dedicated to filling in a gap of our modern education system, which doesn't teach people how to thing from a systems standpoint, by interconnecting the parts.
Let me know if you can make it.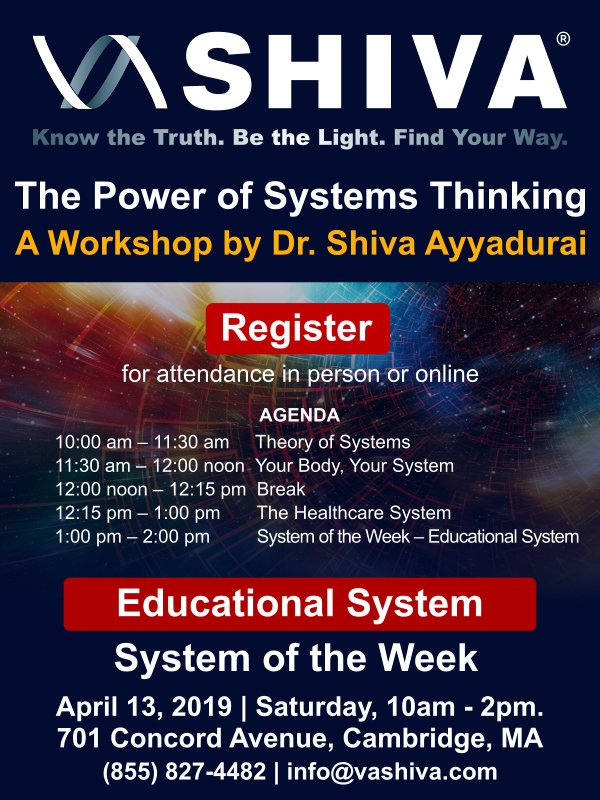 Also, my latest podcast this week is on how galactic factors are contributing to warming of our climate, totally and completely independent of greenhouse gases. As a practicing scientist, real science doesn't care about our political views or how good we speak or look. The scientific method stands on its own. I hope you enjoy this podcast to learn how real scientists are studying the climate versus being frontmen with a political agenda.
[arve url="https://www.youtube.com/watch?v=zRB6W6StqhU" mode="normal" align="center" maxwidth="1024″ parameters="rel=0″ /]
Be the Light,
Shiva
P.S. As I have shared before, I believe we need to move beyond "Left" and "Right." Systems Thinking will provide you a framework to make sense of complex systems, issues and news stories to discover Truth and Real Solutions that you and your family deserve.