I am happy to present you the manifesto for my U.S. Senate campaign. In this, I share with you what & who is THE ENEMY of progress; what must be done to win YOUR FUTURE; and, why a victory for us in MA will be a victory for all of us, anywhere.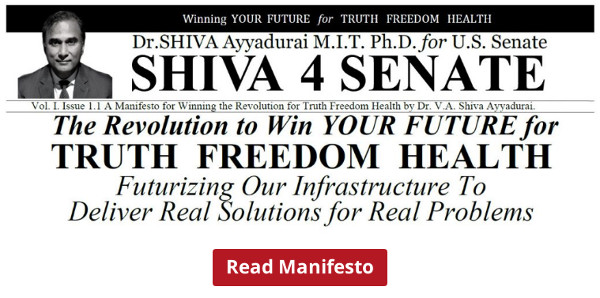 Our ENEMY is corruption – driven by the interests of Power Profit Control – which is incapable of providing the modern infrastructure necessary for Real Solutions to Real Problems. Only a REVOLUTIONARY MOVEMENT can destroy that enemy to WIN YOUR FUTURE for Truth Freedom Health. SHIVA 4 SENATE is leading that Revolutionary Movement.
Join me and together we can fight this enemy and win the Revolution for Truth Freedom Health. Feel free to donate what you can, sign up for our mailing list, and/or volunteer to be part of our campaign.
Until victory,

Dr. SHIVA
Scientist. Inventor. Educator. Fighter.