Hope you are well. I wanted to let you know that we are hosting a hot dog barbeque and potluck on the Cape at the VFW located in Brewster, MA on September 22, 2017 starting at 6:00 pm. I look forward to seeing you there.
Originally, I was invited to give a talk, on the same day, at the Captain's Golf Course, organized by the Harwich Republican Town Committee and the Cape Cod Republican Club. However, a few weeks ago, my communications director, Ron, received the message below from the Republican organizers stating that they were cancelling my talk because of fear of Antifa and BLM.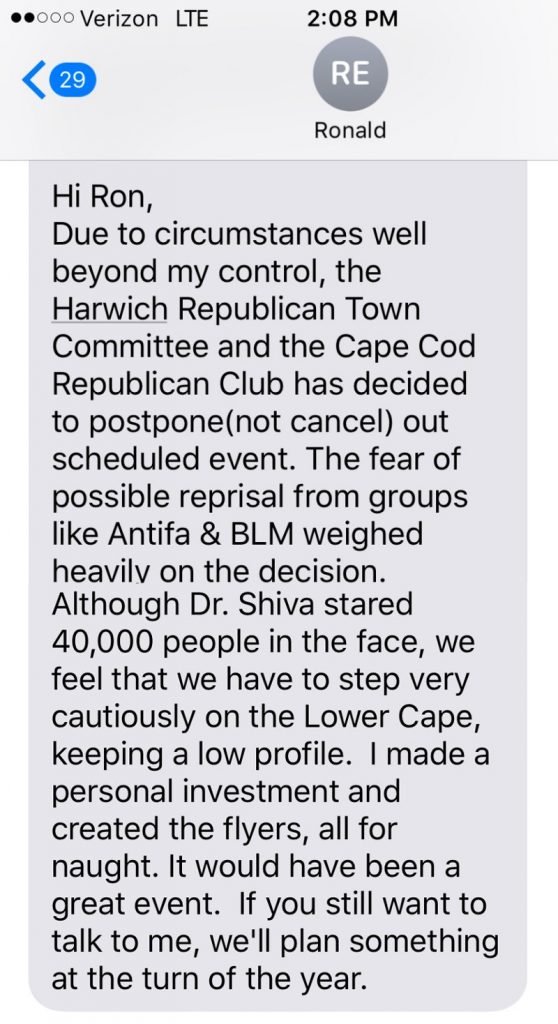 On August 19, 2017, 40 of us faced 40,000 counter-protestors right in our own backyard in Boston, MA at the Parkman Bandstand, to defend the First Amendment, the right to peaceably assemble, and free speech.
I will always fight for truth and freedom and the American Constitution. I am the only one truly committed to defeating Elizabeth Warren and being your next U.S. Senator. I need your support to defeat her, and the Establishment, who cares, NOT for America, but for lining their own pockets.
What I find truly hypocritical is that the Establishment Republicans, who cancelled the event, are the same Republicans who drape the red, white and blue, and who preach patriotism for "American Values" when sending OUR sons and daughters to fight THEIR globalist and imperialist wars to protect THEIR oil, minerals and wealth overseas. They then use the main stream media to tell us that these wars are being fought to defend the American Constitution. Yet, in their own backyard, they disinvite the only U.S.Senate Republican candidate, me, who received a standing ovation at the same club in May 2017, and the only one committed to defeating Elizabeth Warren.
These people are THE ESTABLISHMENT. They don't give a damn about the First Amendment or the Constitution. They only give a damn about themselves. When it comes to defending the First Amendment in their own backyard, they run with their tails between their legs like cowards. THAT is Un-American.
This is why we are hosting OUR OWN event to rally for FREE SPEECH at the Veterans of Foreign Wars (VFW) in Brewster. These veterans DID risk their lives and DID FIGHT to protect the Constitution. We will expose the hypocrisy of the Republican Establishment, who care nothing about America.
JOIN US! The event will be at the VFW, 989 Freemans Way # 9917, Brewster, MA 02631 on September 22, 2017 starting at 6:00 pm. We will provide a barbeque with hot dogs. You are welcome to participate in the potluck.
Support the Shiva 4 Senate campaign. Please contribute $35, $50, $100, $250, or the maximum $2,700, to end Elizabeth Warren's reign and the rule of the Establishment.