JOIN ME on the BOSTON COMMON to STOP Forced Vaccinations.
Charlie Baker and his Democrat Friends, beholden to BIG PHARMA, JUST passed an order to FORCE VACCINATE OUR CHILDREN, WITH THE FLU SHOT. ALL of it based on a FAKE SCIENCE of ONE SIZE FITS ALL MEDICINE.
As you know, I'm running for US Senate, AND I'm an MIT PhD in Biological Engineering – one of the leading experts on the Immune System.
My platform is about Truth Freedom and Health.
THIS ORDER isn't about health. It's about Power, Profit and Control. If they truly cared, they would focus on BOOSTING OUR CHILDREN'S IMMUNITY with Food AS Medicine.
JOIN ME on the BOSTON COMMON, THIS SUNDAY, AUGUST 23, at 2:00 PM to STOP FORCED VACCINATIONS.
THIS is beyond left and right.
If YOU care about this as deeply as I DO, pledge your vote for me in the September 1st Primary, to STOP FORCED VACCINATIONS. I am the only one who has the expertise and will to fight this.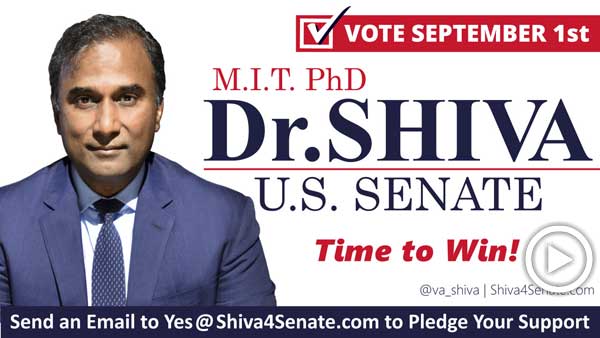 Feel free to donate what you can, sign up for our mailing list, and/or volunteer to be part of our campaign.
Until victory,
Dr.SHIVA
Scientist. Inventor. Educator. Fighter.
P.S. I am traveling on the bus all over Massachusetts. Please check the Shiva 4 Senate events page here. Come meet me, get lawn signs and bumper stickers.
P.P.S. We have set up local Shiva 4 Senate digital communities that you can join and meet your neighbors in your local town/city. This page has a directory, find your town/city and join the WhatsApp group. It's easy!