On September 1, the biggest Election Fraud in American history occurred in the Massachusetts U.S. Senate 2020 Republican Primary. A doofus – nowhere to be seen, no campaigning, no active volunteers, no brand equity, no organization got 60% to my 40% – across the board – in Black, Hispanic, and White neighborhoods!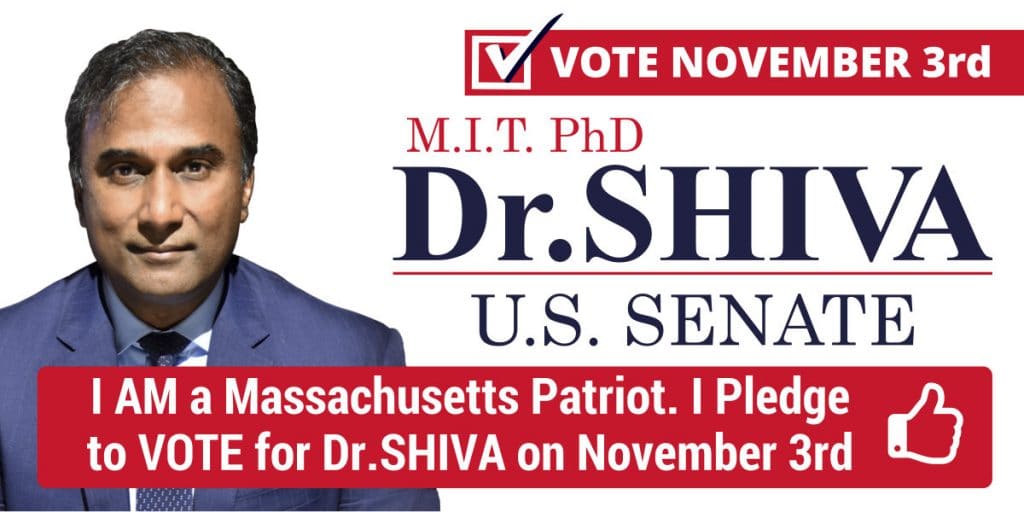 The Establishment had no choice but to commit Election Fraud to ensure their doofus would be the Designated Loser against Ed Markey.
We now Escalate our Movement for Truth Freedom Health. We will be running in the November 3rd General Elections as a WRITE IN candidate. Pledge your WRITE IN Vote for the November 3rd General Elections.
Keep all Lawn Signs up. Share the above link with all your friends in Massachusetts.
Be the Light,
Dr.SHIVA
Scientist. Inventor. Educator. Fighter.
P.S. I am traveling on the bus all over Massachusetts. Please check the Shiva 4 Senate events page here. Come meet me, get lawn signs and bumper stickers.
P.P.S. We have set up local Shiva 4 Senate digital communities that you can join and meet your neighbors in your local town/city. This page has a directory, find your town/city and join the WhatsApp group. It's easy!