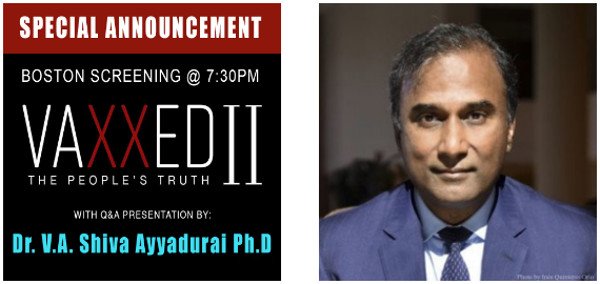 TICKETS MUST BE PURCHASED BEFORE THE PREMIERE SCREENING.
WE HAVE A LIMITED NUMBER OF GENEROUSLY DONATED TICKETS TO FOR THOSE IN NEED – CONTACT US IF YOU WOULD LIKE ONE. FIRST COME FIRST SERVED.
VAXXED II: The People's Truth is Coming to Boston and Burlington THIS WEDNESDAY!
Follow our FB Page for frequent updates and to view trailer
https://www.facebook.com/Vaxxed2MA/
We are excited to announce 2 People's Premieres of 'Vaxxed II The People's Truth' on: November 6th @ 7:30pm at the following locations:
Boston with Dr. V.A. Shiva Ayyadurai Ph.D:
https://gathr.us/screening/30618
Burlington:
https://gathr.us/screening/30711
ABOUT DR. SHIVA
Dr. Shiva Ayyadurai, M.I.T. Ph.D., is the inventor of email, a Fulbright Scholar a world-renowned systems scientist. He holds four degrees from the Massachusetts Institute of Technology (M.I.T.). For over four decades, Dr. Ayyadurai's research and innovations have focused on the intersection of computing and biology towards advancing personalized and precision medicine.
Dr. Ayyadurai obtained his undergraduate degree at M.I.T. in Electrical Engineering and Computer Science and during this time developed an operating system for a cardiology image analysis workstation. His master's degree in Mechanical Engineering focused on characterizing wave propagation in composite media such as bone. His master's degree in Visual Studies at the M.I.T Media lab pioneered new methods for scientific visualization. His PhD at M.I.T in Biological Engineering resulted in his eventual development of CytoSolve, a revolutionary computational systems biology platform for scalable integration of multiple molecular pathway models.
He is the Chief Scientist at CytoSolve, Inc., a company dedicated to the research, development, and discovery of multi-combination therapies across pharmaceuticals, nutraceuticals and functions foods through in silico mechanistic modeling. Dr. Ayyadurai serves as a director at the International Center for Integrative Systems, a 501(c) not-for-profit organization dedicated to systems thinking in education and research. In addition, Dr. Ayyadurai is the founder of Systems Health, an educational institute providing health professionals an engineering systems approach to medicine.
He has published and been cited in high impact peer-reviewed journals including Nature Neuroscience, CELL Biophysical Journal, IEEE, Nature Biotechnology. He has authored or edited over 10 books.
He is a member of Tau Beta Pi, Sigma Xi and Eta Kappa Nu. Dr. Ayyadurai has been an invited Keynote or Distinguished speaker on hundreds of occasions at leading institutions nationally and internationally including NIH, Harvard Medical School, FasterCures, Arthritis Foundation, Joslin Diabetes Center, MIT, Tufts Medical School, UHN, Arthritis Foundation, Association of Systems Clinical Pharmacology and Therapeutics (ASCPT), and has been the recipient of many national or international awards. He has authored numerous op-ed pieces and has been featured in major media including the Wall Street Journal, New York Times, Fox News, CBS. His research collaborators include leading scientists at Mass General Hospital, Stanford University, Weill Cornell Medicine, Harvard University, Forsyth Institute, City of Hope, MD Anderson, to name a few.
FILM SYNOPSIS
In 2016, a media firestorm erupted when Tribeca Film Festival abruptly censored its documentary selection, VAXXED: FROM COVER-UP TO CATASTROPHE, amid pressure from pro-pharmaceutical interests. In response to media silence on CDC whistleblower, Dr. William Thompson, who admitted to fraud on a pivotal vaccine safety study, VAXXED catapulted to notoriety and became a worldwide trending topic, opening to sold out theater audiences nationwide.
Stunned by the immense volume of parents lining up outside the theaters with vaccine injury stories to share, VAXXED producer Polly Tommey began to livestream worldwide reaching millions, and a community that had once been silenced were empowered to rise up. In VAXXED II: THE PEOPLE'S TRUTH, Polly and the team travel over 50,000 miles in the USA and around the world. Interviews of parents and doctors with nothing to gain and everything to lose exposed the vaccine injury epidemic and asked the question on every parent's mind, "Are vaccines really as safe and effective as we've been told?"
WARNING / RATING
Rating : Unrated
Vaxxed II: The People's Truth contains images, videos, and verbal stories from parents of children who were injured or killed by adverse vaccine reactions. Some people may find this content distressing. Viewers discretion is advised, and parents are encouraged by the filmmakers to view the film themselves before deciding whether it is appropriate for their children to attend.
FEATURED IN THE FILM
Robert F. Kennedy Jr.
Polly Tommey
Dr. Suzanne Humphries
Dr. Brian Hooker
Del Bigtree
Dr. Andrew Wakefield
Marcella Piper-Terry
Nico LaHood
Hilary Butler
Several Vaccine Injured Children, Adults, and Families